The ABGB is hosting its 2nd Annual Hell Yes Project Olympics & Memorial Day Party on Monday, May 28th. Starting at 3pm, eight Austin non-profits will compete in field-day style events for a $1000 Gold Medal prize. It will be a fun-filled all-afternoon party of food, beer, music… and sports. The scheduled events include Water Balloon Toss, Speed Cornhole, Crowler Can Stacking, Poop The Potato, and Simon Says. Points will be awarded for each event, culminating in a final event of live band karaoke. Each non-profit team will take the ABGB stage with the band Karaoke Apocalypse and get one song to impress the crowd. Crowd participation will help determine the event's winner and perhaps, the entire Olympics.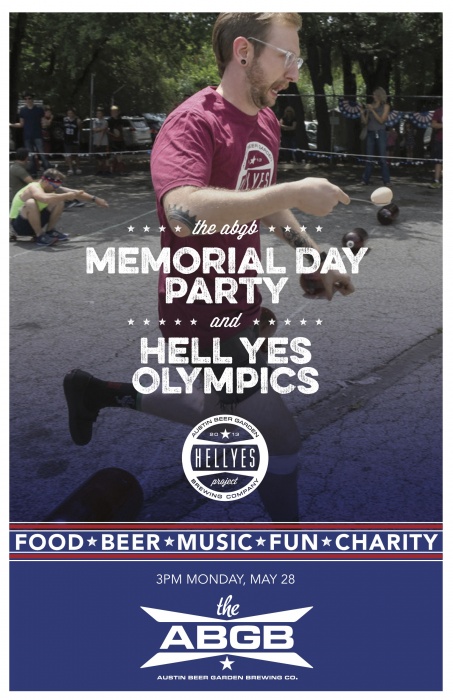 This year, the competing non-profits are:
Austin Pets Alive!
Ghisallo Cycling Initiative
Austin Habitat for Humanity
Save Our Springs Alliance
Health Alliance for Austin Musicians – HAAM
Central Texas Food Bank
Foundation Communities
AIDS Services of Austin
Through the Hell Yes Project, the ABGB donates 5% of its annual profits to its non-profit partners and charities. The ABGB works with these non-profits, assisting them with volunteers, fundraising, and good times. The ABGB says "Hell Yes!" to making its community better, and the project's efforts put into action the ABGB's philosophy: Beer Makes It Better. Highlights include brewing a beer for the longest staying dogs up for adoption at Austin Pets Alive!, hosting build-a-bike lunches for deserving kids for Ghisallo Cycling Initiative, throwing a Freddie Mercury birthday party for Aids Services of Austin, and building a house with other local breweries for Austin Habitat for Humanity.
The first Hell Project Olympics were a great success. Austin Habitat For Humanity took home the top prize. Strong efforts from Save Our Springs Alliance and Austin Pets Alive! in the karaoke category made the finish exciting. To see photos from last year, visit: https://www.facebook.com/media/set/?set=a.865504203587980.1073741857.128026944002380&type=1&l=c9d2582af0