GIVE LOCAL: A NEW PARTNERSHIP, A NEW WAY TO IMPROVE OUR COMMUNITY
The ABGB is proud to partner with Go Local Austin as they introduce a new charity effort for their Go Local card: The Give Local program. The ABGB shares Give Local Austin's belief that local businesses can get together with their patrons and find ways to create the community they want. The Give Local program does just that. Every time a Go Local card is presented at The ABGB, we will donate 5% of the total transaction to assisting a local non-profit that is one of our partners in The Hell Yes Projects.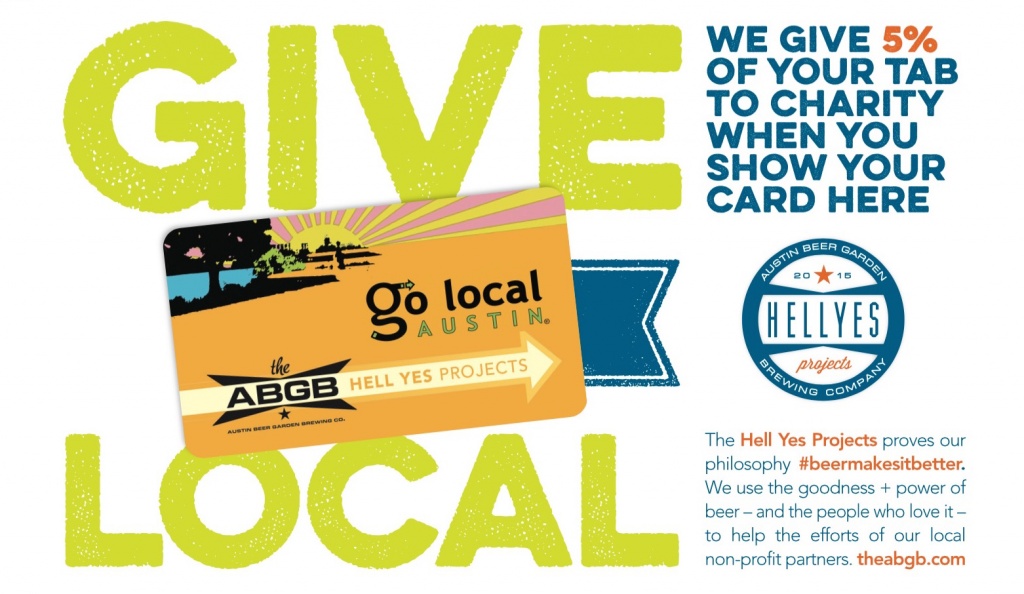 A special ABGB/Hell Yes Projects branded version of the Go Local Card​ is now​ available for purchase at The ABGB for $15​. The card will function like a regular Go Local Card at the​ over 500 participating local ​businesses where the cards are honored, rewarding the user for shopping locally and enabling the user​ to save money every time they present their card at checkout. But at The ABGB (and others participating in The Give Local program), the user will be asked to set aside a potential discount for the opportunity to empower their patronage into doing good for their community.
So, Hell Yes! to giving locally. Hell Yes! to working together to creating the kind of Austin want to live in. And Hell Yes! to our beer doing its part to make things better.
ABOUT THE HELL YES PROJECTS
The Hell Yes Projects is our community outreach program, and is built on this belief: Beer makes it better. We believe that beer has not just the power to make times with friends, a hot slice of pizza, and seeing a great band better, but the power to make our entire community better. The Hell Yes Projects harness beer's innate goodness and partners it with people, finding ways to improve our neighborhood, the ​city, and​ the lives of lots of folks.
With the Hell Yes Projects​, we partner with​ local non-profit organizations and support them in their efforts and endeavors. Current projects include Barton Springs Pool (Friends Of Barton Springs Pool, Save Our Springs Alliance) local cycling (Ghisallo Cycling Initiative, BE KIND to Cyclists), literacy (Literacy Coalition of Central Texas), housing (The Housing Heroes Fund. Habitat For Humanity's The House That Beer Built).
ABOUT THE GO LOCAL CARD
The Go Local Card has been a family-owned and operated company in Austin TX since 2008. Currently 40,000 Austin residents present their Go Local cards at checkout at 400+ participating local businesses to receive instant rewards (on average 10% off their bill). There is no need to register or accumulate points. Cards are good to use for one year and can be purchased for $15 at The ABGB and other participating Go Local businesses.