BEER MAKES IT BETTER – AT THE HOLIDAYS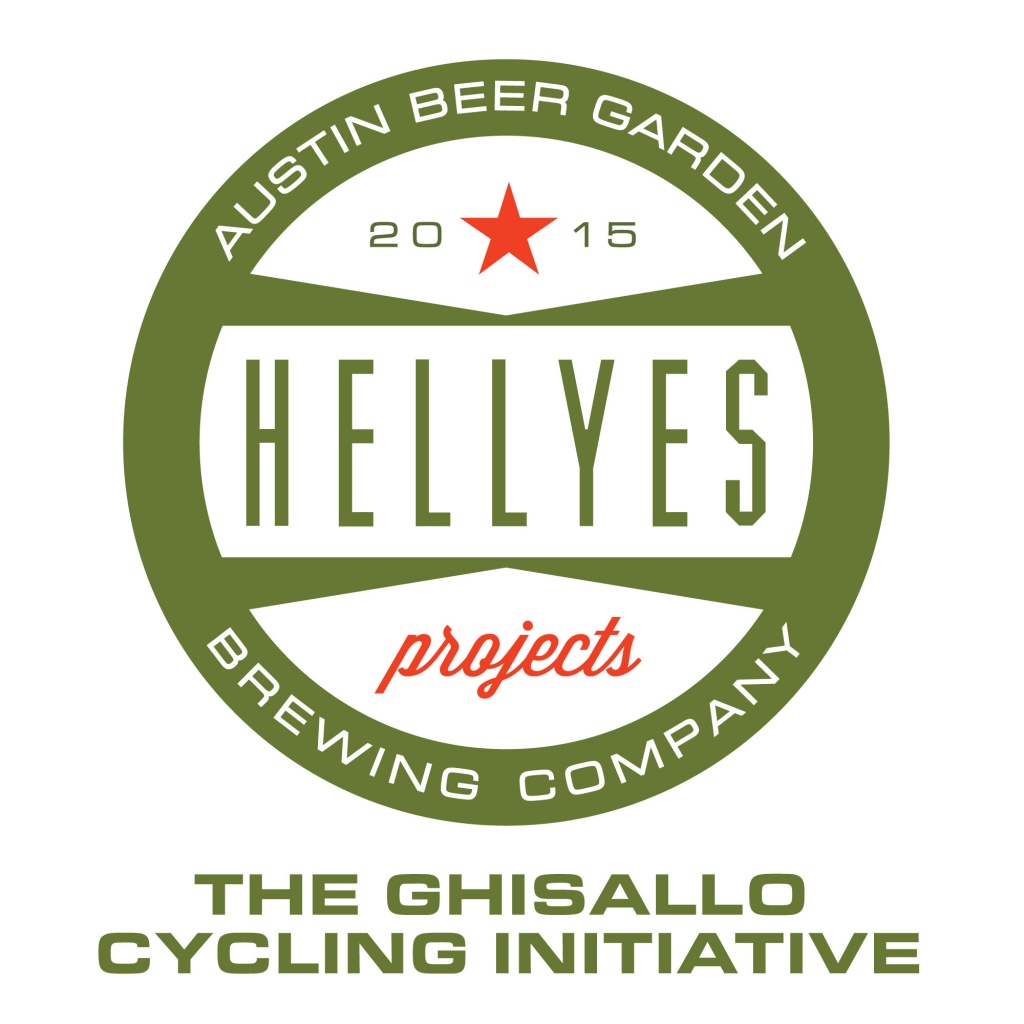 The Hell Yes Projects is our way to prove that beer has the power to make everything better. Not just a Friday night, but our entire community. This Holiday season, we want to put beer to work making the lives of lots of kids better! Hell Yes to that! We're partnering with the Ghisallo Cycling Initiative, who's mission is to educate and develop youth riders into cycling experts who integrate bicycling into their daily lives. Together, we're inviting you to join us and say Hell Yes in a couple of different ways!
THE HELL YES HOLIDAY PARADE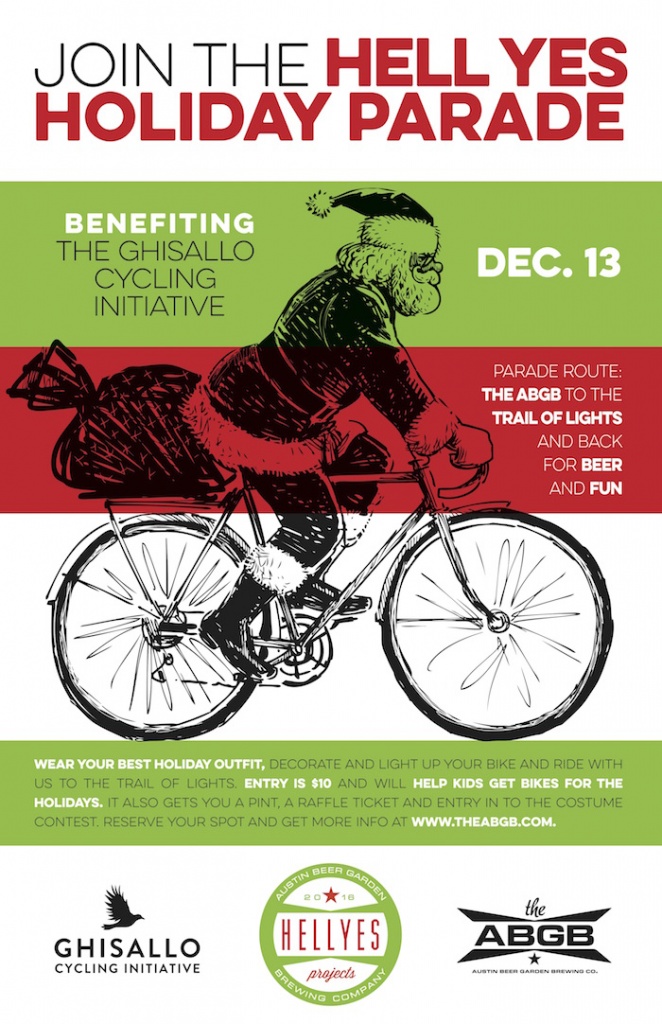 On Tuesday, Decemeber 13 say "Hell Yes!" to a bike ride/parade from The ABGB to the Trail of Lights in Zilker Park and back. Wear your best holiday outfit, decorate and light up your bike and ride with us on a ride to benefit the Ghisallo Cycling Initiative. Entry for the ride costs just $10!
Your entry gets you:
A pint upon your return from the ride
Entry into a big huge raffle with fablulous prizes
Entry into the Hell Yes Holiday Parade Costume Contest. Categories: Best, Funniest, & Most Festive
The ride will leave the ABGB and travel directly to Zilker Park. We'll take a casual tour of the awesome Trail Of Lights and return straight back to the ABGB to continue the party and award prizes.
Sign ups, and more raffle tickets, will be available at The ABGB prior to the ride. To reserve your spot now, visit: http://shop.theabgb.com/products/hell-yes-holiday-parade
Departure Time, Raffle Prize List, and More Details coming soon!
BUILD-A-BIKE HOLIDAY LUNCHES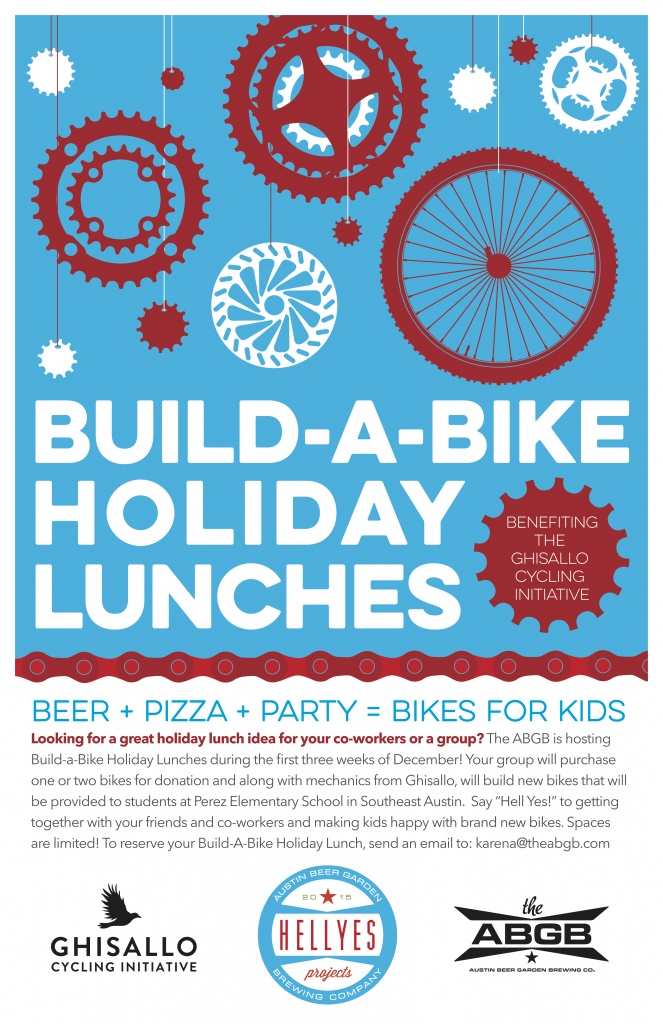 Beer + Pizza + Party = Bikes for Kids
Looking for a great holiday lunch idea for your co-workers  or a group? We're hosting Build-a-Bike Holiday Lunches the first three weeks of December! Your group will purchase one or two bikes for donation and along with bike mechanics from Ghisallo, will build new bikes that will be provided to students at Perez Elementary School in Southeast Austin.  Ghisallo has an active Bike Club there, and the school's families have been heavily impacted by the most recent Onion Creek floods in Dove Springs. Say "Hell Yes!" to getting together with your friends and co-workers and making kids happy with brand new bikes. Spaces are limited! To reserve your Build-A-Bike Holiday Lunch, send an email to: millie@theabgb.com
MORE ABOUT THE GHISALLO CYCLING INITIATIVE
The Ghisallo Cycling Initiative is a 501(c)(3) nonprofit founded in 2011 and based in Austin, Texas. Our goal is not only to provide Austin youth with supervised access to outdoor physical activity, but to help them develop into self-sufficient riders who have the skills and knowledge to use their bicycles for transportation without depending on adults. Our programs focus on transportation, navigation, and exploration while purposely developing opportunity, access, and equity.
Our primary clients are are low-income under-served students to whom we provide semester-long, after-school Bike Clubs, a free Youth Bike Shop and Earn-A-Bike program, Bicycle Rodeos, and maintenance and safety clinics. Since 2013 we have served over 5,500 youth participants via Bike Clubs and Earn-A-Bike programs and over 2,800 via Bike Rodeos. In the Fall of 2015 we expanded to 20 sites across Austin.
MORE ABOUT THE HELL YES PROJECTS
The idea behind the Hell Yes Projects is to prove out The ABGB's philosophy that beer has the power to make everything better. Sharing times with friends. A fresh, hot slice of pizza. Seeing a great band. Hell Yes, beer makes all of these things better. But we also believe that beer has the power to make our entire community better. We believe we can harness beer's innate goodness and put it into action improving our neighborhood and city and enriching the lives of lots of folks. So, Hell Yes to more bikes around our city. And Hell Yes to making kids happy at the holidays with the joy (and the responsibility) of a brand new bike.
For more info: millie@theabgb.com