The ABGB repeats as the Large Brewpub Of The Year & Large Brewpub Brewer Of The Year at the 2017 Great American Beer Festival®
Rocket 100 wins 2nd Gold Medal in American or International-Style Pilsener
Velvet Revolution wins Gold Medal in Bohemian-Style Pilsener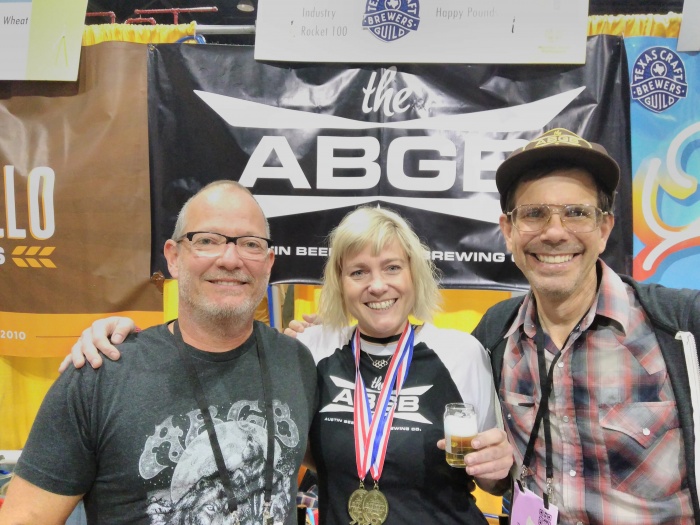 The Austin Beer Garden Brewing Co. (aka The ABGB) earned two gold medals at the 2017 Great American Beer Festival (GABF) competition and was also awarded Large Brewpub Of The Year and Large Brewpub Brewer Of The Year for the second year in a row.
Presented by the Brewers Association, GABF is the largest commercial beer competition in the world and recognizes the most outstanding beers produced in the USA. The top three winners in the competition's 98 beer-style categories were announced October 7 at the Great American Beer Festival awards ceremony held at the Colorado Convention Center in Denver, Colorado.
The award for Large Brewpub Of The Year again honors Amos Lowe, Brian "Swifty" Peters, and Kim Mizner as Large Brewpub brewers of the year. The ABGB won medals at the GABF for the third year in a row. In 2015, Rocket 100 won a Gold Medal in the American-Style or International-Style Pilsener beer-style category. In 2016, Industry Pilsener won a Gold Medal in German-Style Pilsener category and the Hell Yes Helles won a Bronze Medal in Munich-Style Helles. If you're counting, that's three different pilsener categories, with 4 Gold medals for the ABGB (Rocket 100 in 2015 and 2017.
Rocket 100 gets its inspiration from the first German immigrants who settled into Texas and brewed with new indigenous ingredients. It's now a full-time beer (or an"Always" beer) on the tap tailgate at The ABGB. Velvet Revolution (currently a "Sometimes" beer) gets its name from the non-violent transition of power in what was then Czechoslovakia, in 1989.
Amos Lowe, brewer and owner says, "Pilseners are special to us. So, winning Brewer Of The Year with two of them earning Golds, that's as good as it gets."
"By winning back-to-back brewpub of the year, the ABGB is now recognized around the country as one of the premier breweries," said Brian "Swifty" Peters, brewer and owner. "We're really happy for all of our fellow Texas breweries that won. Texas crushed it."
Texas craft breweries won 21 total medal wins, with Saint Arnold Brewing Company also winning Mid Size Brewery of the Year Award. 2017 was the best year for Texas craft beer yet. The 2017 GABF competition winners were selected by an international panel of 276 expert judges from 7,923 entries, plus 118 Pro-Am entries, received from 2,217 U.S. breweries.
The ABGB recently celebrated its fourth anniversary in South Austin. The brewpub features live music with the brewery's fermenters as the stage's prominent backdrop. It's food menu changes daily based on what's fresh and in-season, and is as locally-sourced as possible.