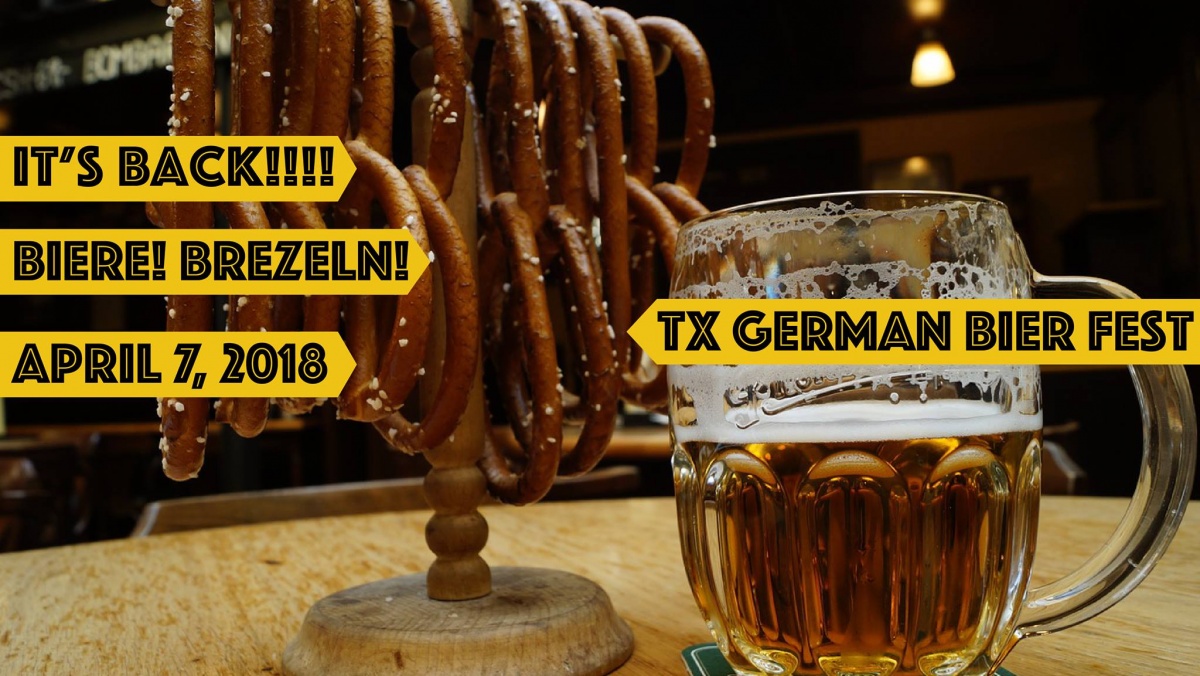 TX German Bier & Brezel Fest
We're able to beer festivals now! We're excited to be at this one!
The details:
The 
Austin Saengerrunde
 and 
Foodways Texas
 have partnered up to combine Texas German Bier (aka beer) and Austin's First Brezel (aka Pretzel) Festival! The event will take place Saturday, April 7th, 2018 from 5pm to 11pm at the historic Saengerrunde Hall and 
Scholz Garten
.
This year, our favorite craft breweries will once again showcase specialty German style bier and what better accompaniment than brezeln!! Local chefs, bakers, and other brezel-dough makers will offer up delicious bites!
General Admission: You'll receive a commemorative glass boot, bier tasting tickets, and samples of brezel bites, anything from sweet to savory!
Grammy Award winning band, Brave Combo, will get you dancing to their psychedelic polka!
BIER VENDORS
The ABGB
Alamo Beer
Austin Beerworks
Big Bend Brewing Company
Circle Brewing Company
Hops and Grain
Karbach Brewing Co.
Lazarus Brewing Co.
Live Oak Brewing Company
Real Ale Brewing Company
Rentsch Brewery
Southern Heights Brewing Co
Texas Beer Company
and more to come!
BREZEL VENDORS
Easy Tiger
Hi Hat Public House
Frank
Scholz Garten
and more to come!
Rehydrate with sparkling water from Big Swig!
Want more information? www.TXGermanBierFestival.com
FAQ's
Date: Saturday, April 7th, 2018 5-9pm (Brezel Tastings) and 5-11pm (Bier Tastings, Bowling, and Dance Party)
Rain, Rain, Go Away:
We have covered the Bier Garten and the Halle to protect our bier and of course…you.
Is this an all ages event?
All ages are welcome but you must be 21+ to drink alcohol.
Is this a dog friendly event?
Due to our food permit policy for this event, dogs are not allowed. Sorry.
Is there re-entry?
Yes.
Can I bring outside drinks or food?
No.
Where to park?
There is plenty of garage and street parking around the perimeter of the venue, both metered and non-metered.
About the Austin Saengerrunde
In 1852, German settlers in Austin formed a traditional singing group. On February 8, 1879, the group officially organized as a singing society bearing the name "Saengerrunde". The Saengerrunde is the oldest ethnic organization in Austin. Scholz Garden, a beer garden established in 1867 by German immigrant August Scholz, became a favorite meeting place for Saengerrunde members. The Scholz Garden property, originally owned by Lemp Brewery of St. Louis, included a dance hall and bowling alley as well as the restaurant and beer garden. In 1904, the Austin Saengerrunde club leased the property from Lemp Brewery and in 1908 purchased the entire property. Under the stewardship of the Austin Saengerrunde, the combined facilities have continued to provide an atmosphere that encourages members and guests to preserve and enjoy the German heritage. For more information, see www.Saengerrunde.org.
About The Beneficiary:
Foodways Texas
Foodways Texas is an organization founded by chefs, journalists, scholars, restaurateurs, farmers, ranchers, and other citizens of the state of Texas who have made it their mission to preserve, promote and celebrate the diverse food cultures of Texas. By joining and supporting Foodways Texas, you become part of a movement to preserve the vibrant foodways of Texas through oral history projects, documentary films, recipe collections, and scholarly research. You will join us in highlighting the state's distinctive foods and food cultures at our annual scholarly symposium, supporting educational food-based seminars, promoting local food networks, and partnering with universities and other non-profit organizations to educate future generations about healthy and sustainable food practices.