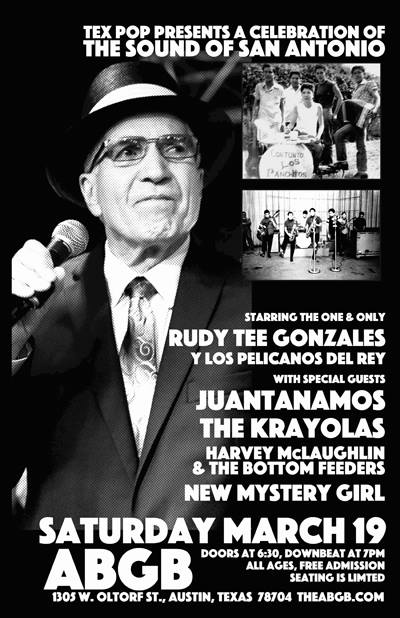 Tex Pop Presents The Sound of San Antonio
Starring Rudy Tee Gonzales
The South Texas Popular Culture Center a.k.a. Tex Pop is proud to present a celebration of The San Antonio Sound to top off this year's SX Music Week on Saturday March 19th at The ABGB in Austin, Texas. Headlining the event will be Rudy Tee Gonzales Y Los Pelicanos del Rey.
7:00 pm New Mystery Girl
8:00 pm Harvey McLaughlin & the BottomFeeders
9:00 pm Rudy Tee Gonzales Y Los Pelicanos del Rey (King Pelican)
10:00 pm The Krayolas
11:00 pm The Juantanamos
As one of the major pioneers of Chicano rock'n'roll and later a successful Tejano singer, Rudy Tee Gonzales helped put San Antonio's famous Westside Sound on the map, inspiring everyone from Doug Sahm to ? and The Mysterians.
In 1952, 14 year old Rudy Tee Gonzales started his own conjunto band in San Antonio, Conjunto Los Panchitos. However all that changed when he first heard Johnny Guitar Watson, Bobby Blue Bland and other national R&B acts. He immediately started a new band enlisting Big Ralph Sanchez (Big Ralph & The Gigolos) on sax, brother Red Gonzales on drums and others. By the late 1950's they cut some of the earliest Chicano rock and roll on small San Antonio labels. Many of these were written by Rudy, including "I Cry, Cry" (Rio Records), "Indian Rock" (Blaze Records) and "Morning Glory" (Red Top Records).
1961 brought their first big package show with Mexican performers playing at the Alameda Theatre in San Antonio. Now known as (Rudy &) The Reno Bops, Gonzales was recording for Renner Records, doing covers of popular R&B and Rock'n'Roll songs which Rudy had translated into Spanish including "Tossing & Turning" as "Vueltas y Vueltas" , "The Twist" as "El Twist", "Don't Cry No More" as "No Llores Mas".
This act toured Texas, from SA to Corpus to Houston then off to California and on to the East Coast. Around this time Jesus Martinez and Los Teen Tops came to San Antonio for a show. Rudy and Los Teen Tops hit it off and Rudy found himself on a 30 hour train trip from San Antonio to Mexico City. He spent a few weeks down in Mexico playing bass and translating songs. Los Teen Tops wanted him to stay but Rudy was in the Army Reserves at the time and had to go back to SA.
In 1965, Pato Gonzales was Rudy's promoter and booking agent. Pato along with wife Lily (owners of Bego Records) offered a deal to Rudy to co-own a new record label, soon dubbed Pa-Go-Go Records. The first act on the label was a little band out of Michigan called ? and The Mysterians. Their first release for Pa-Go-Go was "96 Tears" b/w "Midnight Hour", produced by Rudy. The label went on to release many other highly sought after 45's from 1965-1967.
The intervening 35+ years would see Rudy Tee continue to perform, most notably as a Tejano singer until 2015 when he was invited to appear as a headliner at Ponderosa Stomp in New Orleans. Rudy and the Reno Bops performed to over 1,500 music fanatics playing songs from their catalog not touched since their original release on 45 RPM, sending the New Orleans crowd into a huge dance party and sparking a new interest in the sub-genre of Texas music known as the "Westside Sound".
2016 brings a special collaboration between Rudy and surf and twang killers King Pelican, performing material he hasn't done since the early 60's. The new act called Rudy Tee Gonzales Y Los Pelicanos del Rey captures the true sound and excitement of the era when Rudy was playing all over Texas, California and Mexico City. King Pelican has the big chops and driving beat to really showcase the raw energy of Rudy Tee, making this collaboration a must-see.
Opening the evening's show will be Chrissy Flatt's New Mystery Girl. The San Antonio raised rocker has an upbeat and twangy sound that recalls 60's garage and girl groups and early American punk.
Following NMG will be Harvey McLaughlin & The Bottom Feeders. The band infuses 50's and early 60's influenced rock'n'roll with 20-something energy and swagger.
After Rudy T's set San Antonio veterans The Krayolas take the stage. The band now nearly forty years into a career that began in the mid-70's were once referred to as "The Beatles of Tex-Mex" because of their early harmony heavy, Fab Four influenced singles for Box Records. The band's mid-2000's revival has brought them new fans with a woodier, updated sound that relies more heavily on the incorporation of regional styles including blues and Tex-Mex. They are often heard on Little Steven's Garage on Sirius XM.
Closing the night's festivities will be The Juantanamos, brainchild of guitarist and songwriter John Agather. The relatively new act draws very well in San Antonio with spotless presentation and music that brings The San Antonio Sound into the present within the AAA context.
Expect special guests throughout the evening, this should be a night to remember.
Tex Pop is THE Music Museum of San Antonio presenting exhibits centered on San Antonio's rich musical history, as well as live performances, film screenings and art and photography shows.