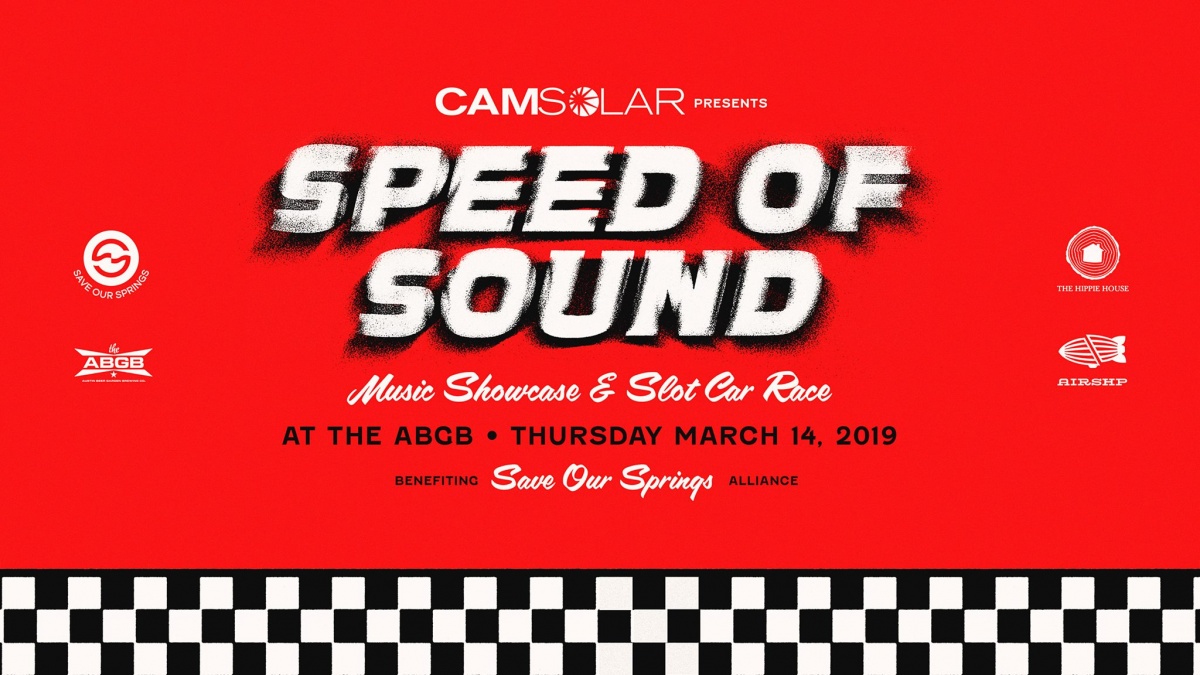 Speed of Sound Showcase & Slot Car Race benefiting SOS Alliance
CAM Solar is proud to present a FREE and unofficial all-day party focused on music, sustainability and fun! Enjoy a music showcase featuring both local and international talent, solar-powered slot car races for all ages by Races2U, and The ABGB's truly world class beer and food. All at South Austin's favorite brewery and beer garden. The Inside stage will be rocking and the dog-friendly outdoor patio will have $1 slot car races and other fun stuff. Proceeds benefit our friends at The Save Our Springs Allience. We'll go from 1pm to close.
RSVP HERE:
https://shoorah.org/event/speed-of-sound/
Cam Solar Presents
SPEED OF SOUND
Music Showcase & Slot Car Race
at The ABGB • Austin, TX
Benefiting Save Our Springs Alliance
Music:
1p Little Dan
2p The Selfless Lovers
3p Brothers Of September
4p Jo James
5p Josh Pearson
6p Graveltooth
7p Delvon Lamarr's Disorganized
8p Dr JOE
9p Lando & the Nomads
10p Pierson Saxon
11p Big Wy's Brass Band
Produced by The Hippie House, AIRSHP and The ABGB. Curated by Shoorah Society.
RSVP HERE:
https://shoorah.org/event/speed-of-sound/
About Save Our Springs Alliance
The Save Our Springs Alliance works to protect the Edwards Aquifer, its springs and contributing streams, and the natural and cultural heritage of the Hill Country region and its watersheds, with special emphasis on Barton Springs.
About CAM Solar
Cam Solar looks to provide a brighter future for our local community through green initiatives, community involvement, and trustworthy customer service. The owners of CAM Solar studied the huge potential of solar and other forms of renewable energy. It was the start of a lifelong love affair where making a substantive difference in the lives of Texans was a genuine possibility. They set off to empower their vision with specialized training and their overwhelming desire to assume the active role of converting the people of Texas to Solar. They devised a company charter that defined for themselves their role: "to provide the smartest solar-engineered solutions that are as right for their customers as they are for the environment". These are words the Company lives by.