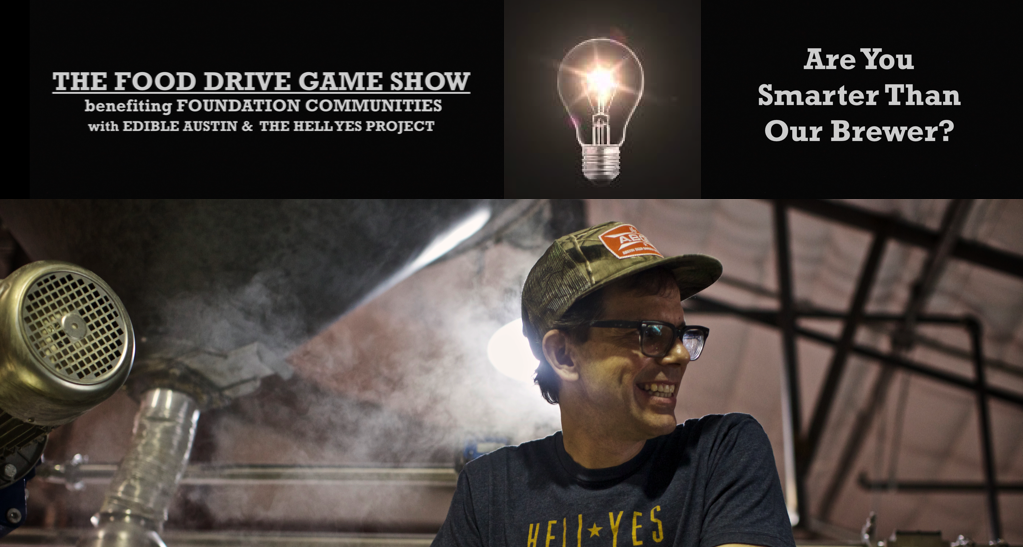 Are You Smarter Than Our Brewer?
The Food Drive Game Show
Can you take down our brewer, game show style? Then, be here November 7 at 7 p.m. and enter to play, and win: "Are You Smarter Than Our Brewer?" (GAME SHOW NOISES!)
We're teaming up with Edible Austin for a special night to raise awareness for one of our The Hell Yes Project's partners, Foundation Communities. And, bonus, it's also a food drive for them, too!
Emceed by Kelly Stocker, five lucky contestants will get a shot to outsmart Swifty at beer and food knowledge, 80's pop culture, and more. Please bring canned and non-perishable food items…. because you're awesome…. and for your chance to take on Swifty.
But that's not all! We'll also be doing a special game show dinner! A hungryman's smorgasboard of ABGB goodness packed on to a 16″ plate! Proceeds from its sale will aslo benefit Foundation Communities.
Stay tuned for more info!
[An Almost A Austin Beer Week Event!]