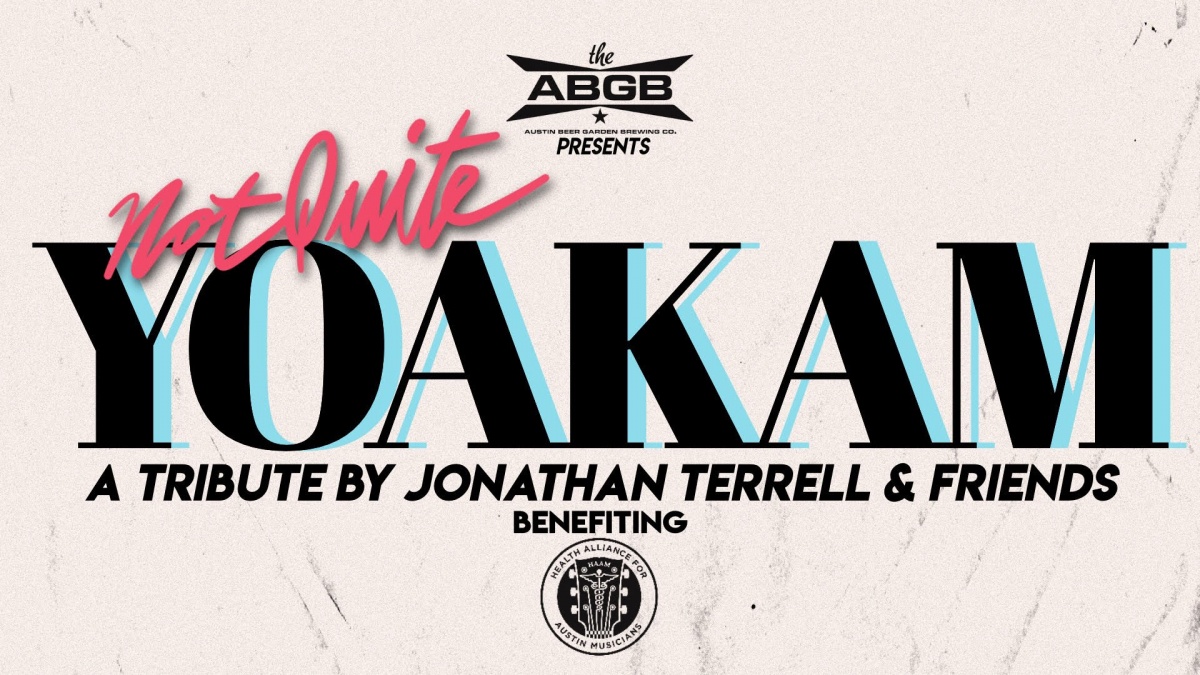 TIX AVAILABLE AT DOOR! -Not Quite Yoakam: A tribute by Jonathan Terrell & Friends Benefiting HAAM

TIX AVAILABLE AT DOOR! 
The ABGB presents
Not Quite Yoakam
A tribute by Jonathan Terrell & Friends
Benefiting HAAM
Thursday, July 25 8p
Thursday, July 25th… the streets of Bakersfield turn right into 1305 West Oltorf as Jonathan Terrell and his super-talented crew of Friends and musicians are going to take us along for an evening of guitars, Cadillacs, and good vibes that will be a thousand miles from nowhere. We want you to come along. Your ticket will help support the amazing, and ever-necessary, non-profit: Health Alliance for Austin Musicians – HAAM. Tell your friends, this is going to a be special night.
TICKETS: $15
https://shop.theabgb.com/collections/tickets/products/not-quite-yoakam-a-tribute-by-jonathan-terrell-friends
Your tickets will not be mailed. Your name will be added to our guest list.
DOORS 8pm SHOW 9pm
​ABOUT JONATHAN TERRELL​
Jonathan Terrell is a new breed of country, pulling inspiration from dreamscapes and in depth stories from the gorgeous and gritty corners of Americana. He received international praise for his 2008 full length solo debut, "Trials and Stimulations", and began work on his next record until shelving the project in 2011 to front and tour with the rock'n'roll band, Not In The Face.
Terrell returned to his second album of songs and shaped them into an enchanting collection of yearning and bravado, heartbreak and redemption. He released "Past the Lights of Town" four years later, in 2015 on Candy Bang Records. He followed the release of "Past the Lights of Town" with residencies in NYC, DC and Philadelphia, a UK tour and a sold out French Tour. Jonathan is currently touring in the U.S. and finishing a new full length record set to release spring of 2019.
"Jonathan Terrell Is a Feminist, Gun Toting Singer Smashing Country Stereotypes"- Noisy
"On last year's notable sophomore LP, Past the Lights of Town, Terrell hits sparse and direct, his voice rusted with a hard twang in sharp ballads that twist exceptional lines like barbed wire"- Austin Chronicle
ABOUT HAAM
HAAM provides access to affordable healthcare for low-income, working musicians in the Austin area. Since 2005, HAAM has provided over 4,400 musicians with over $44 million in affordable healthcare, including primary & specialty care, dental, vision, hearing, alternative wellness, and Hep C treatment.
ABOUT THE HELL YES PROJECT
Our guiding philosophy is: Beer Makes It Better. The Hell Yes Project is our way of putting this philosophy into action. We team up with non-profit partners that share our passions. Making our city a place where kids don't go hungry, where it's safe and fun to bike, where our Veterans are respected, and where our treasured Barton Springs Pool stays pristine are just some of things we say "Hell Yes!" to making it happen.​ ​We donate 5% of profits to our Hell Yes Project Partners. To do it, we team up with them and do fun and cool stuff, we host events and parties, and usually, enjoy a beer or two along the way. We're always looking for people like you to join us and prove the truth of our philosophy.