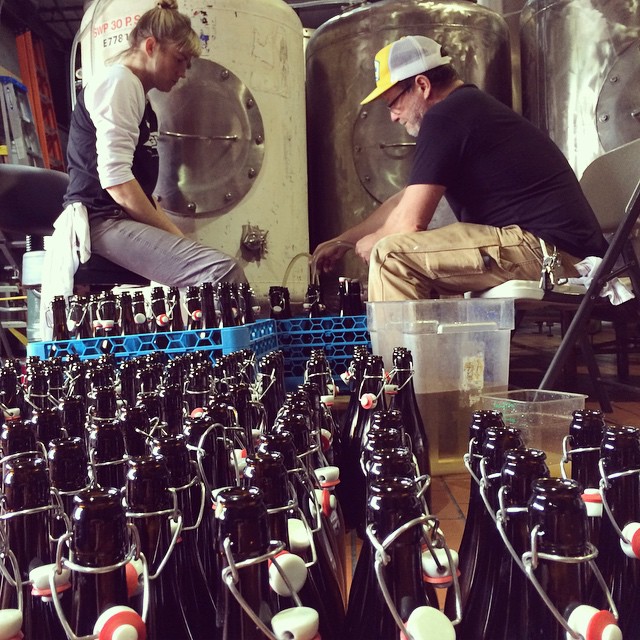 Our First Bottle Release!
LuLu Lambicus Bottle Release Day
The ABGB's first bottle release. High noon on an August Saturday. We recommend you plan your trip around a jump in Barton Springs. Before or after, it doesn't matter, but do make sure you're here to claim your own bottle. We're very proud of this beer. And we're excited to share it with you.
When we first put it on tap, we got the same two questions again and again: Funhouse? What does that mean?
And the answer is this: We don't have a farm, but we do like to have fun. So, LuLu Lambicus is a Funhouse Ale.
100% Brett. Aged on French Oak. Unfiltered. Bottle-conditioned.
When brewers bottle condition beers, they add fresh yeast for a second fermentation or they bottle the beer with yeast in suspension to continue fermentation. Both result in live yeast in the bottle.
As the yeast ferments it produces alcohol and CO2. For bottle-conditioning, the overall alcohol percentage will not change much, but the CO2 produced in the bottle will provide natural carbonation. Natural carbonation is usually softer resulting in a smooth mouth feel.
With live yeast present, the beer flavor and aroma profile continues to evolve. The beer is also more stable and can age gracefully while conditioning.
The Brett Lambicus strain in Lulu provides the natural carbonation the brewers are looking for and creates an evolving process in the beer's flavor and aroma.
We love bottle conditioning beer and we hope that you will enjoy it, too.
Lulu Lambicus American Funhouse Ale
13.1 OG 23 IBU 6.4% ABV
750 ml
$18