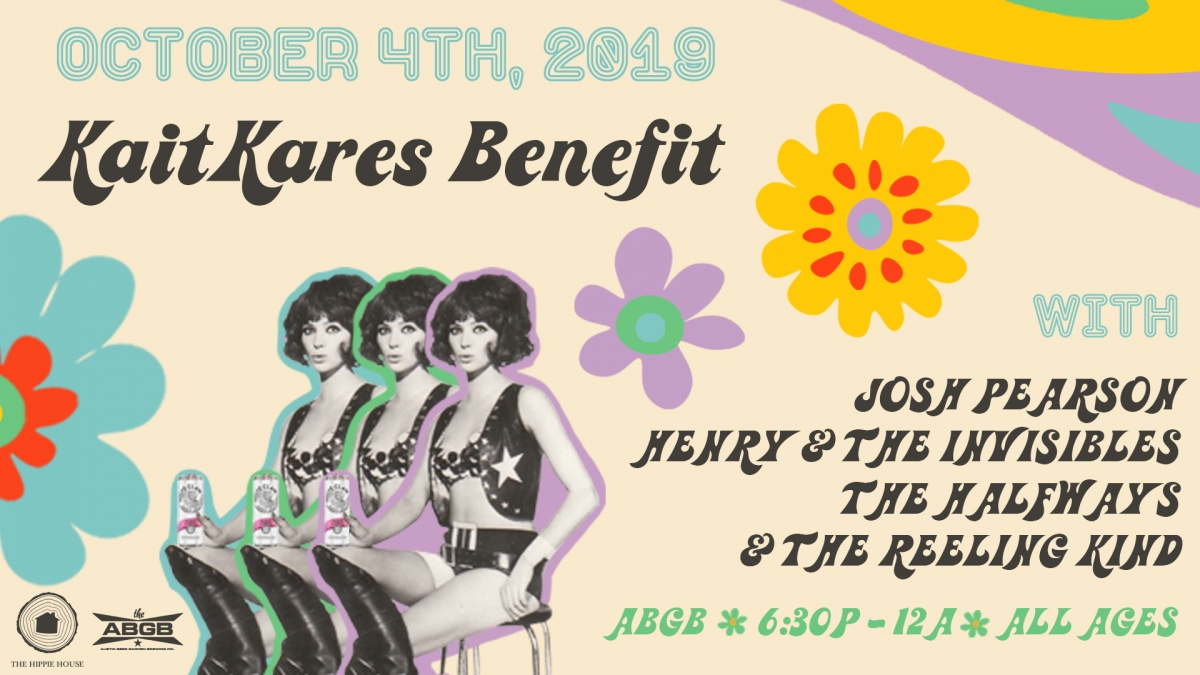 KaitKares, The Hippie House and The Hell Yes Project Present
Josh Pearson
with Henry & The Invisibles, The Halfways &The Reeling Kind
KaitKares & The Hippie House Present:
KaitKares Benefit Show! 🌺
Josh Pearson w/ Horns 🎺(http://joshpearson.org/)
with Henry + The Invisibles, The Halfways and The Reeling Kind!
Kaitlyn Denson and Joseph Tarin tragically passed away in an apartment fire in July 2019.
Kaitlyn was a beautiful magical spirit with a soul that shined brighter than the sun! Her need for adventure and her curious mind led her all over the world….into jungles, climbing mountains, and exploring the deep depths of caves and canyons. Whether she was traveling abroad, or exploring here at home, she took every opportunity to meet new people and experience everything that life had to offer.
Joseph Tarin's passion in life became his desire to cook and create new dishes at different restaurants and food trucks in Austin but started his culinary career in Pecos. He strived to learn different dishes and to perfect his culinary skills by enrolling at Cordon Bleu Culinary Institute in Austin. Joseph is survived by his loving parents, Victor and Rachel Tarin of Pecos, aunts, uncles, cousins and many friends that cherished his friendship and ability to remain a "free spirit"
🤝 How You Can Help 🤝
:: Give ::
This is one of the simplest ways to help our cause. We believe the best way for our initiatives to be successful is for the community to actively get involved. This is an easy and efficient way of contributing to the great work planned by KaitKares. Every donation will go directly to the mission to educate everyone on the fire-related risks of their surroundings.
:: Act ::
Send a personalized letter or email to your legislators about the issues important to you. Be an advocate for change by helping us increase awareness, implement life-saving programs, and pass legislation.
:: Honor ::
Our organization knows that so many are impacted by the senseless loss of a loved one in fires that could have been prevented. We want to hear your story.
You can read more about her story, and how to get involved here: https://www.kaitkares.org/
Donations are being accepted to support fire safety research and education at the State and National level, fire safety equipment distribution as well as law reform efforts.
To donate, please go to www.kaikares.org and click the donate now button.
🎉RAFFLE DETAILS 🎉
There will be several raffle items available at the event as well including a 50/50 jackpot!
There will be Vendors and Live Painters!
This show is FREE!!!
And All Ages, so bring the little ones!
🎸 More about Josh Pearson 🎸
Over the past twenty years, composer / guitarist / vocalist Josh Pearson has created a growing network and fanbase in the jam band culture. He is a founding member of Moving Matter, Phish tribute A Live One & Talking Heads tribute HeartByrne, well known for their musical prowess and high energy improvisation
🎸 More about The Halfways 🎸
Born from the sonic spaces between reality and fantasy, The Halfways are a psych noir ensemble currently residing in Austin, Texas on Planet Earth.
🎸More about The Reeling Kind 🎸
Introducing The Reeling Kind, a string quartet from Austin, Texas featuring acoustic guitar, mandolin, fiddle, and double bass. Using the bluegrass style as a foundation, TRK incorporate elements of Folk, Americana, Jazz and Psychedelia to give you a musical experience brimming with authenticity and unbounded in its scope