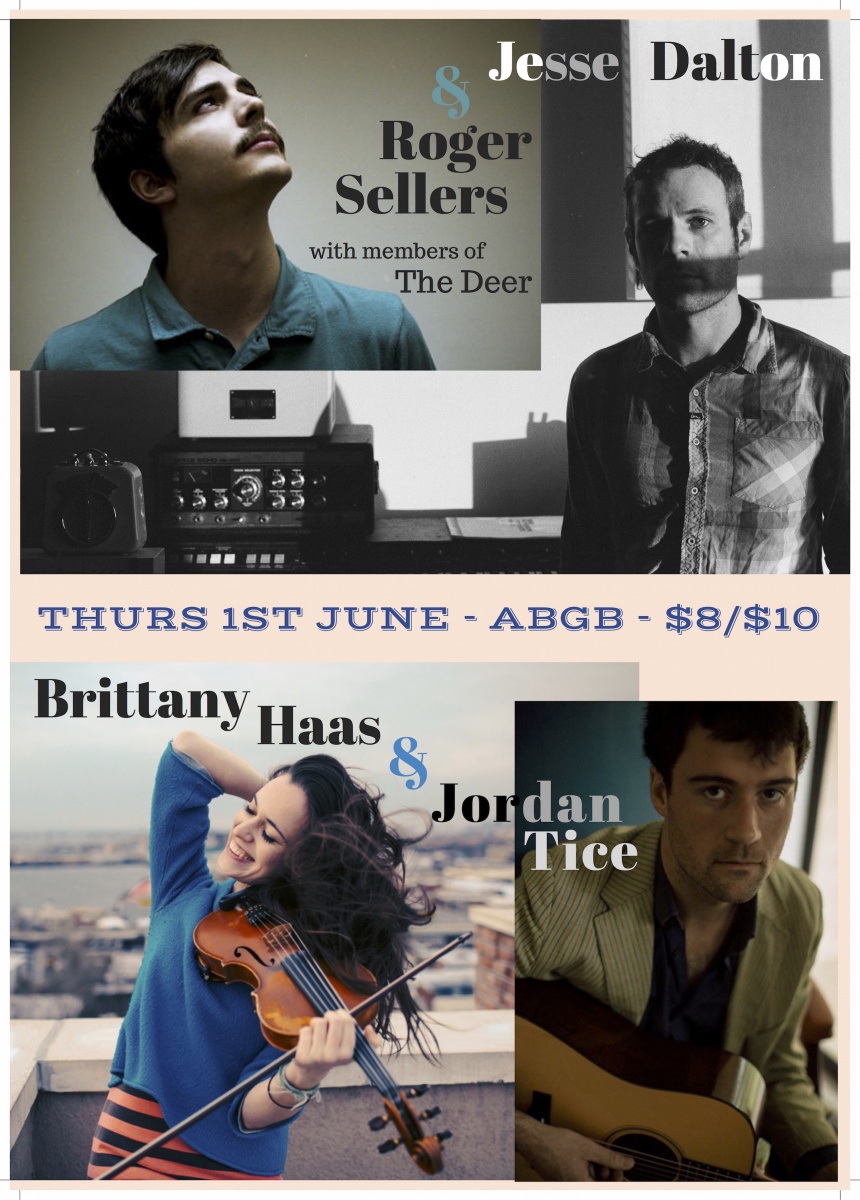 JESSE DALTON & ROGER SELLERS (W/ MEMBERS OF THE DEER) + BRITTANY HAAS & JORDAN TICE
It's going to be a special evening. See you here.
9pm – Jesse Dalton & Roger Sellers (w/ Members of The Deer)
+
10pm – Brittany Haas & Jordan Tice
Thursday June 1
ADVANCE TIX on sale Monday May 1
$8 in advance
https://shop.theabgb.com/collections/frontpage/products/jesse-dalton-roger-sellers-w-members-of-the-deer-brittany-haas-jordan-tice
Jesse Dalton – Rooted in transcendental bluegrass, experimental lyrical poetry, and psychedelic freak folk, Jesse Otis Dalton is a writer-singsonger, playwright, and multi-instrumentalist who is based in the musical hub of Austin, Texas. His solo project is known as Jesse Otis Dalton vs. the state of texas, in which he plays guitar and banjo, in addition to the upright bass.
Roger Sellers is a musician/producer/songwriter who crafts an eclectic range of songs and sounds from a variety of instruments – guitar, banjo, drums, electronic loops and samples. His performances range from solo sets (switching from acoustic instruments to the electronic set-up that gave the impression that he was a DJ) to a full band. (http://sideonetrackone.com/)
+
Brittany Haas is a 5-string fiddle player from Northern California, currently residing in Nashville. A Princeton graduate, she is a member of the Prairie Home Companion house band and tours with her instrumental trio, Haas Kowert Tice. She has spent the past 16 years traveling the world with various musicians and groups such as The Dave Rawlings Machine, Crooked Still, Darol Anger's Republic of Strings, Yonder Mountain String Band, Tony Trischka, Abigail Washburn, and Alasdair Fraser & Natalie Haas. She also loves teaching at a multitude of fiddle camps each summer.
Hailing from Annapolis Maryland, Jordan Tice is an innovative flatpicker and prolific composer of acoustic music. The son of two bluegrass musicians, he grew up playing with various bluegrass bands and singer/songwriters around Maryland until 2005 when he enrolled at Towson University to study music composition on full scholarship. He released his debut recording of original music at the age of 17 on Patuxent Records and has since released 2 more recordings of his music to rave reviews.