Ivan Brown And Push 9
Ivan Brown And Push 9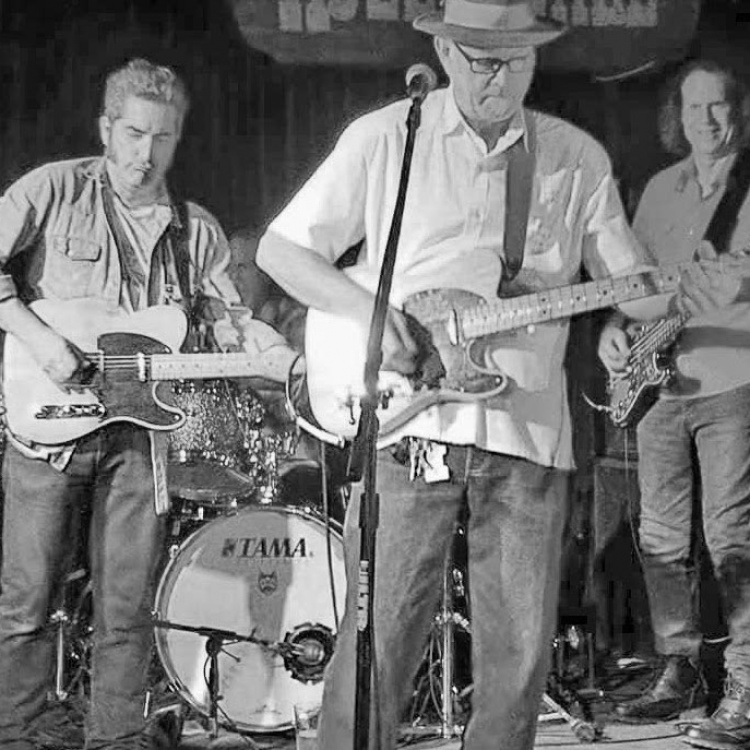 Austin, TX based musician Ivan Brown, known primarily as a wildman, upright bass (climbing) player, steps down from that instrument to take center stage with his new band, PUSH 9. Pushing himself beyond four decades as a stalwart sideman to several Austin artists, including a near decade with Slaid Cleaves, Ivan brings his singing and songwriting talent to the forefront returning to his first instrument, the guitar. Without for-feiting any of the hard drive he was noted for as Evan Johns' lifelong musical accom-plice and longest tenured H-Bomb bassist, Ivan brings a sensibility and soulfulness to new songs crafted over a 3 year hiatus from Austin. Recognizing the rich heritage he hails from, one without walls or borders, Ivan is bringing a little bit of everybody he's ever played with along through his songs and PUSH 9.
Growing up in the DC area as a first generation Rock'n'Roller, he started playing guitar at age 15 in 1965, the same year he saw the Rolling Stones at the Washington Coli-seum. In 1969 he went to Woodstock, then went to work woodshedding to make a pro-fession of his passion. Ivan got sidetracked from six strings when he was hired for his first professional tour as Muddy Waters' sideman Steady Rollin' Bob Margolin's electric bass player. On upright, he was Uncle Walt's Band replacement for David Ball in 1986. With Walter Hyatt and Champ Hood, he began to polish the high harmonies he first brought out as an H-Bomb. As Ivory Johnson, he played piano for the DC area Red Hot Swinging Johnsons, a New Orleans, old school, rockin' Rhythm & Blues Band.
With those above, Wayne "The Train" Hancock, The Rhythm Rats and others, Ivan has toured the US, Europe, Scandinavia, Canada and Mexico. He's carved a wide arc play-ing clubs, major festivals like the Newport Folk Festival and the National Folk Festival at Wolf Trap, site of his solo acoustic debut in '72, house concerts, et al.
He's on recordings for Evan Johns, The Rhythm Rats, Slaid Cleaves, Toni Price, Clifford "Mr. Honky Tonk" Scott and more. His solo CD Fortune Wheel was recorded and engi-neered by Gurf Morlix and Mark Phillips. Disc opener "He's Old, He's Six", a regularly requested, popular song at Slaid shows, is a romper. The final cut is a tender, loving lullaby. But in between, Roots, Rock, Rockabilly, Blues and Ballads blast. Never an imi-tator, Ivan has an inimitable style, at ease whatever the musical "make" of a song.
PUSH 9 brings together a wealth of Austin talent including Ivan's former band mate in The Rhythm Rats John McGlothlin (James Hand) on drums and H-Bomb alumni Dan McCann (Cosmic Messengers) on bass. Grady Pinkerton (Lazy Lester) on guitar and East Side Flash (Southern Comfort) on keyboards round out a band not bound by any one style. They create a generous grab bag sure to drag you to the dance floor! To Twist or to Waltz!? Push 1 for Rock'n'Roll, 2 for Rockabilly, 3 for Country, 4 for Folk, 5 for Blues, 6 for Singer, 7 for Songwriter, 8 for Other but PUSH 9 for ALL!