If you've seen Crooks play here, we'll see you here. If you haven't seen Crooks play here, well, we should see you here.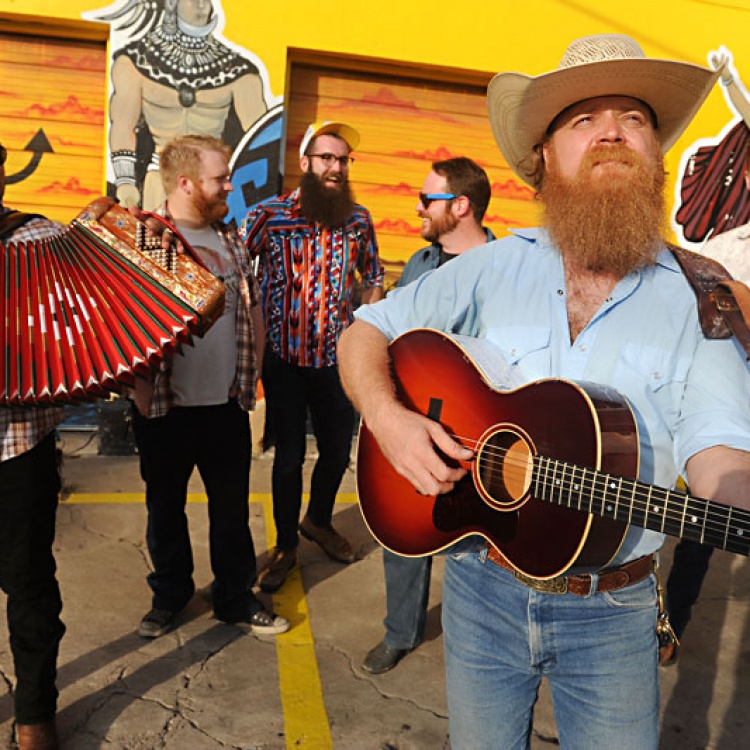 There's no shortage of country music in Crooks' hometown of Austin, TX. But ask anyone who has crammed into a packed honky-tonk to catch one of their infamously rowdy late-night shows and they'll tell you there's something that sets them apart from the rest.
Crooks are breathing new life into decades-old musical traditions, stripping away the polish and shine of modern radio country and replacing it with earnest songs about life, work and pain. Sometimes it's weary and lonesome, sometimes it's downright bleak, and oftentimes it's just reckless fun. Suddenly, country music is dangerous again.
Frontman Josh Mazour formed Crooks in 2007 as a two-piece band, playing stripped down sets at dive bars around Austin. Things have grown from there. He's now joined by drummer Rob Bacak, stand-up bassist Joey McGill, lead guitar player Ryan Goebel, percussionist/trumpet player Doug Day, and accordionist/trumpet player Anthony Ortiz Jr. Live, Crooks are an even greater spectacle, as trumpet, and accordion players jump on stage throughout their set.
Crooks released their debut LP 'The Rain Will Come' this year, featuring guest appearances from accordion legend Flaco Jimenez of the Texas Tornados, and produced by Danny Reisch, known for his work with other Austin luminaries like The Bright Light Social Hour, Okkervil River, Shearwater, and White Denim.
Mazour lists songwriting greats like Hank Williams Sr., Townes Van Zandt, Billy Joe Shaver, Merle Haggard, Willie Nelson, Blaze Foley and even Kurt Cobain as influences on his style, which he describes as "just unapologetic country songwriting."
"Country music is honest music," he says. "You can get straight to your point, and if no one likes it, that's fine. But you don't have to hide your feelings in tired metaphors and youthful whining." 'The Rain Will Come' has been a resounding success, kicking down doors for the band on a national level. American Songwriter called it "a driving slice of country noir," and CMT.com praised it as "rugged and lonesome," saying "this style of country music makes you want to keep your tab open." KUT-FM put their money on Crooks as the "Austin artist most likely to score big in 2012," while the Austin American-Statesman predicts that "the seemingly endless stream of media praise… points toward something bigger coming." But Mazour takes it all in stride. "I write songs because it's the only thing I'm good at doing. I have no idea what else to do with myself at this point," he says. "I know I'm still gonna piss some people off, make mistakes, and that I have a lot to learn."
Elements of conjunto and mariachi music are also incorporated into Crooks' constantly evolving sound. Accordion legend Flaco Jimenez of the Texas Tornados appeared on their last album, while accordion/trumpet player Anthony Ortiz Jr. now performs with the band full-time.
Crooks are pushing the boundaries of modern country music and reclaiming decades-old traditions for a new generation of Texas outlaws.
With Crooks behind the wheel, country music is dangerous again.