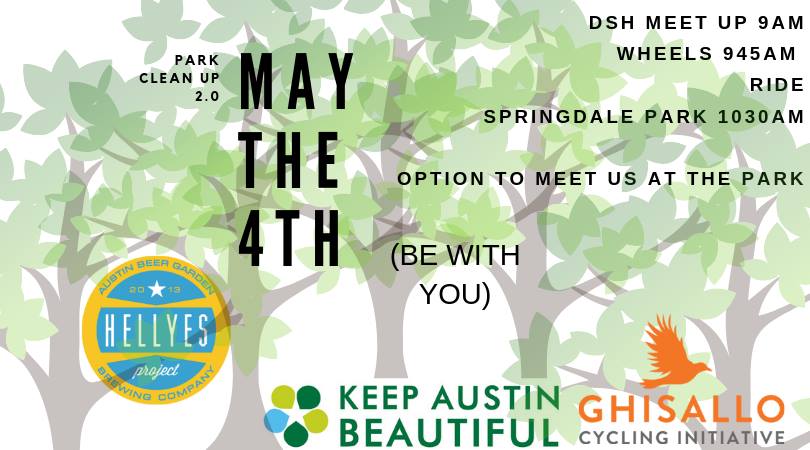 Community Ride & Park Clean-Up!
at
Springdale Neighborhood Park
WE'RE TRYING IT AGAIN with the Park Clean Up Do Over ReMix 2.0!
Enjoy helping others get outside and give back to their community? Great! Celebrate with us on a bike ride, a park clean up and party!
Ghisalllo Cycling Initiative needs folks who are fun, dedicated, personable, and ready to take action to fulfill the Keep Austin Beautiful mission: engaging citizens to build more beautiful communities.
Join us and May the Fourth Be With You (hehe) 🙂
ITINERARY:
9AM Meet Doug Sahm Hill
We will have Coffee provided by Cuvee and Bagels by Rockstar Bagels – so come early, get in a little social time with us before the ride!
945AM Wheels Down! Community Engagement Ride from Doug Sahm Hill to Springdale Neighborhood park
1030AM Park Clean Up
OPTION: You can also just meet us at Springdale Neighborhood Park for the clean up and party!
The PARK ADDRESS:
1175 Nickols Ave, Austin, TX 78721