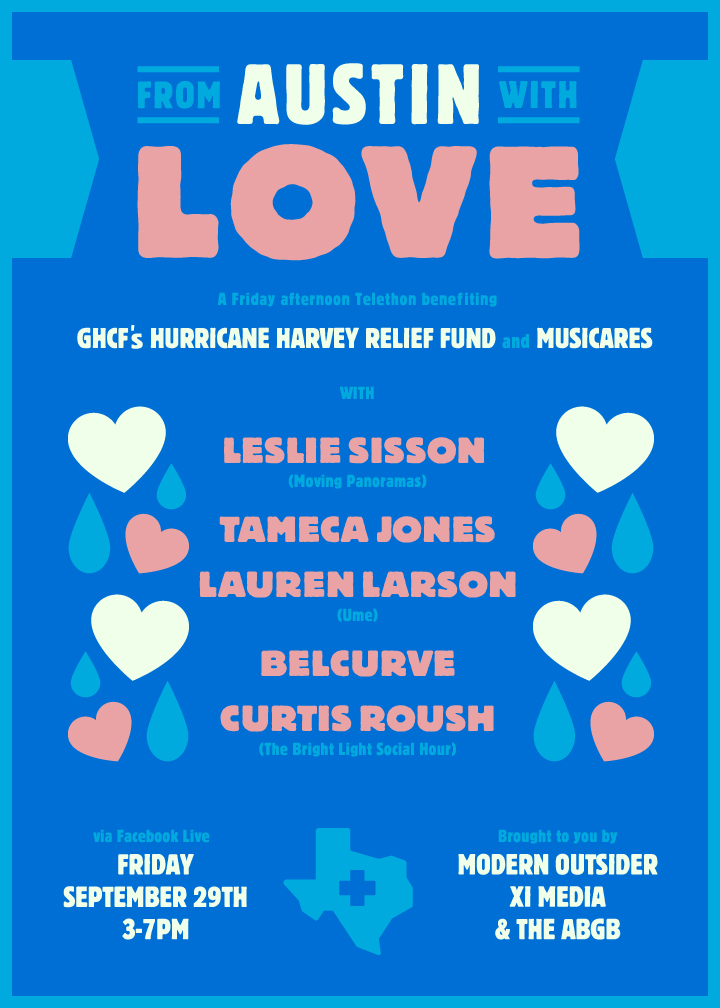 From Austin With Love: A Friday Afternoon Harvey Telethon
From Austin With Love
A Friday Afternoon Telethon To Benefit Greater Houston Community Foundation's Hurricane Harvey Relief Fund & MusiCares' 2017 Hurricane Relief Efforts
Via Ḟacebook Live
Friday, September 29th 3-7pm
Tune in. Come out. Share with your friends. Let's all get together (even if virtually) and help our friends in need in Houston. Check outfromaustinwithlove.net to learn more.
Brought To You By:
Modern Outsider, XI Media Productions, & The ABGB's The Hell Yes Project
Live Performances by
Taméca Jones
Ume
Belcurve
Curtis Roush (The Bright Light Social Hour)
Leslie Sisson (Moving Panoramas)
Special Video Appearances From Austin Musicians
&
A Huge Happy Hour Raffle
GHCF's Hurricane Harvey Relief Fund:
After receiving an overwhelming number of inquiries from citizens and companies who want to help, Houston Mayor Sylvester Turner and County Judge Ed Emmett established the Hurricane Harvey Relief Fund that will accept tax deductible flood relief donations for victims that have been affected by the recent floods. The fund will be housed at the Greater Houston Community Foundation, a 501(c)(3) public charity.
MusiCares:
A friend and ally of the music community, MusiCares has announced the establishment of a relief fund to support members of the music community affected by the recent devastation of all the 2017 hurricanes. Assistance includes coverage of basic living expenses such as shelter, food, utilities, and transportation; medical expenses, including doctor and hospital bills, and medications; clothing; instrument and recording equipment replacement; relocation costs; home repairs; debris removal; and more. Musicians and music professionals can request disaster relief by contacting the South Regional MusiCares office at 615.327.0050 or toll-free at 877.626.2748, or by submitting an application.
The Hell Yes Project:
The ABGB says "Hell Yes" to making our community better. We do fun stuff, and we donate 5% of profits to our charity and non-profit partners. Join the Hell Yes Project. More info at: www.theabgb.com
Modern Outsider
Modern Outsider was founded in Austin, Texas in October 2010 as a full-service management company and record label by husband and wife team, Chip and Erin Adams. Their mission is simple: discover and release great music while building a tight-knit community for their artists.
XI Media Productions
XI Media Productions is a Telly and DV Award winning video production company serving clients all over the world.