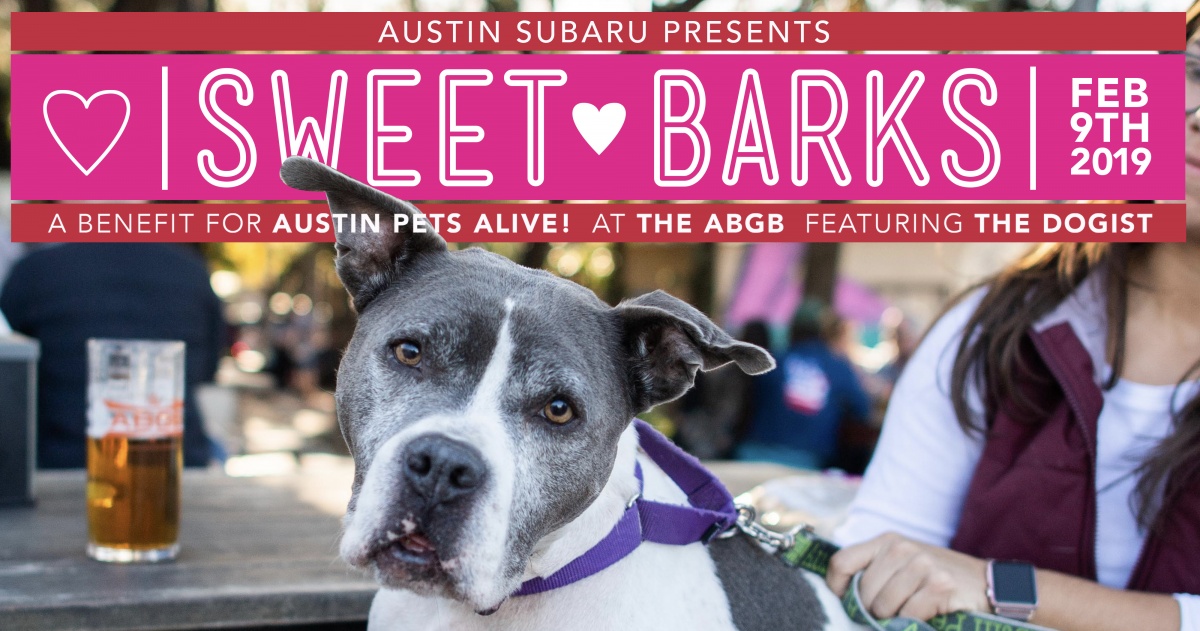 Austin Subaru Presents Sweet Barks: A Benefit for Austin Pets Alive! Featuring The Dogist
Austin Subaru Presents Sweet Barks: A Benefit for Austin Pets Alive! Featuring The Dogist
That's right, The Dogist is coming to APA! Sweet Barks 2019!
This year, Sweet Barks, the annual Austin Pets Alive! Doggie Lovefest and Fundraiser, will give you the chance to have your dog photographed by Elias Weiss Friedman, the world's most famous dog photographer, and the chance to be featured and star on The Dogist's Instagram! With over 3.4 million loyal followers, your pup could become Insta-Famous!
See the ticket link or click below to purchase your raffle tickets to win a photo session!
https://www.austinpetsalive.org/sweet-barks/
Sweet Barks is the biggest, sweetest, most fun dog party of the year. Last year's event at The ABGB raised over $25,000 for APA! This free event is the day when we get to celebrate our relationship with our true loves… our dogs! We're excited to announce our vendors and sponsors that will be here for the full-on celebration of pups:
Our Sponsors!
Austin Subaru
with
PAZ Veterinary
Special support provided by:
H-E-B & Bryan Anthonys
Our Vendors!
Tomlinson's Feed
KollarKouture
Get Wagging
GoodPop
Kathyphantastic
Pawsome Dog Treats Delivery
Honey I'm Home
Amurica TX
The French & I
The Suite Life
Power Home Remodeling
In addition to the interactive fun and frivolity with our amazing vendors, there will be lots to see and do for you and your pup:
Adoptable Pups!
Pet Portraits!
The 101X Kissing Booth with Jason and Deb!!
Treat Station with treats from Tomlinson's Feed
Limited edition Sweet Barks T-shirts
Limited edition enamel pins by ABGB's very own Adrienne Rivers
Customized Graffiti Trucker Hats by Efren Rebugio
& More!
If you've got a dog-related or dog-loving business and you'd love to be a vendor or part of this frivolity, please contact Millie at millie@theabgb.com. Please send all media inquiries to Mark at mark@theabgb.com