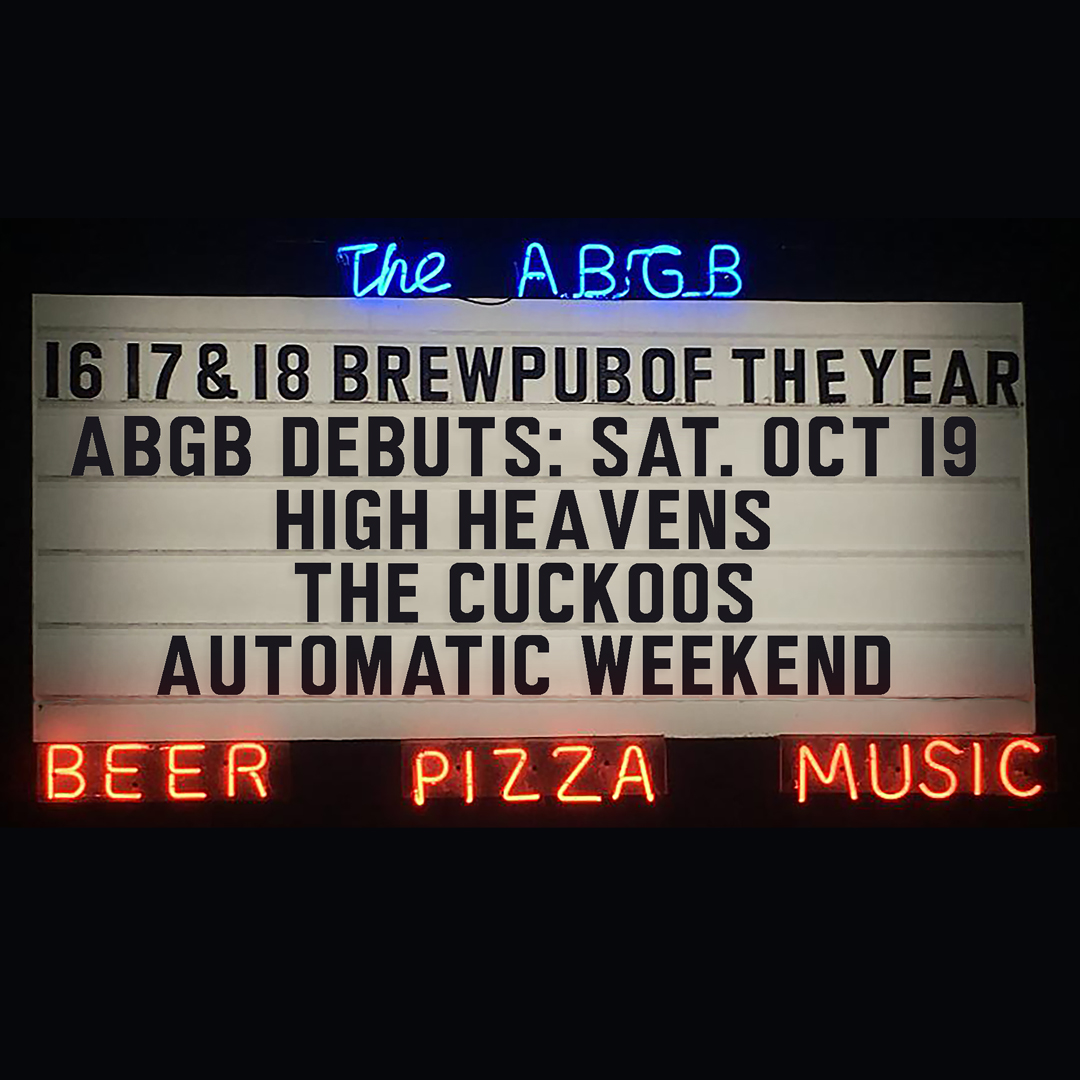 ABGB Debuts
with High Heavens, The Cuckoos & Automatic Weekend
ABGB Debuts!
The ABGB is stoked to feature the best emerging talent from all corners of the Austin live music scene. The monthly series will feature a 3-band bill of our newest favorites making their ABGB debuts. Come over and sample a flight of our latest tasty selections. No cover, all ages.
High Heavens 11p
New music from former members of New Wet Kojak, I Love You But I've Chosen Darkness, Crime in Choir, Edsel, Glorium and Ignorance Park, among many others, based in Austin, TX.
The Cuckoos 10p
"The psych-rock group from Texas (composed of Kenneth Frost, Dave North, Eric Ross, and Cole Koenning) is undeniably raising the bar in the modern rock scene, as their work possesses a level of innovation and skill that is largely unparalleled by most musicians today. Despite having just formed in 2014, The Cuckoos have cultivated such an advanced and intricate sound that one would easily assume that they're veteran rockers without knowing otherwise…
…Something that makes The Cuckoos stand apart from the rest is their impeccable ability to master and utilize multiple different styles of music, resulting in the ultimate auditory nexus for anyone who not only appreciates rock, but the work of genuinely talented musicians."
Automatic Weekend 9p
What started as a two-man band along the banks of the Rio Grande, brothers Sergio and Adrian Romanos formed Automatic Weekend in the summer of 2008. In the next few years they became a fixture in and around south Texas, and took home SledgeTV awards for "Best New Band" and "Song of The Year" (Heartbreaker) in 2009. In 2011, the brothers decided to pack up and move to Austin, TX. There they met up with an old friend and fellow Laredoan, Fernando Gutrierrez. The timing was perfect, it seemed, because the Romanos brothers were looking to develop a fuller sound and were searching for a bassist. Soon after arriving in Austin, Fernando became the third member of Automatic Weekend. They began gigging in and around town fine tuning their new sound and released a 5-track EP in late 2014. Since then, AW has recorded a 10-track EP engineered by Sam Patlove at Fresh Up Studio in Austin. The yet-to-be-titled album is set to be out in May of 2015. Their sound can be best described as blues/rock now mixed with a little texican punk, a dash of country, and a shot of tequila… minus the salt and lime. Cheers!